Traditional Mall Retailers Could Risk Extinction as E-Commerce Grows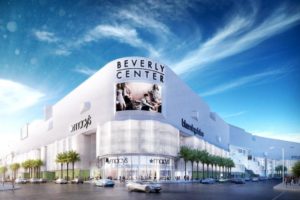 In this weekly update Leader Capital provides its thoughts on the current economy as well as analysis of specific market sectors and securities – and their strategy for the funds going forward.  The securities and sectors mentioned are ones of interest to the portfolio managers in carrying out their investment strategy for the funds and although the funds may not invest directly in the securities or sectors discussed, their resulting performance may impact that of the funds – or influence actions taken by the portfolio managers.  These discussions do not imply a recommendation to purchase any specific investment or investment in a specific market segment.
We believe stand-alone stores that carry pharmacies or groceries will end up with the lions' share of specialty products through licensing agreements.​

For example: Target (TGT), Walmart (WMT), TJ Companies (TJX), Home Depot (HD), Costco (COST), Walgreens (WBA), Starbucks (SBUX), Rite Aid (RAD), Lowes (LOW).

We believe traditional brick and mortar retail names that you find in malls will disappear/reappear in a "stand-alone" store.  The latest casualty is Ann Taylor (Ticker: ASNA) (Chart #1).

​ ~11% of U.S. retail sales were done online in 2016. 2016 online sales grew 15.6% over 2015 according to the US Department of Commerce.
Autos Update
Wholesale auto prices declined 1.5% in April according to the Used Vehicle Price Index by J.D. Power Valuation Services.

Used vehicle price index by J.D. Power Valuation Services, falls for 10th straight month as off-lease volumes flooding market.

We see pricing headwinds likely through 2018 as volume of off-lease vehicles will be steady through 2019.

Used car prices expected to decline in the 6% range in 2017 (Chart #2).
Macro
Brazil scandal news sends ripple through Brazilian financial markets. Bovespa (Brazillian/Sao Paolo stock market) falls. Currency (Brazilian Real) tumbles.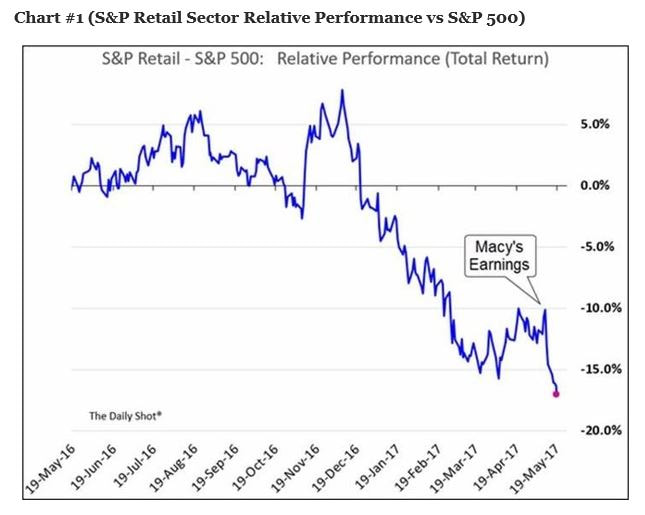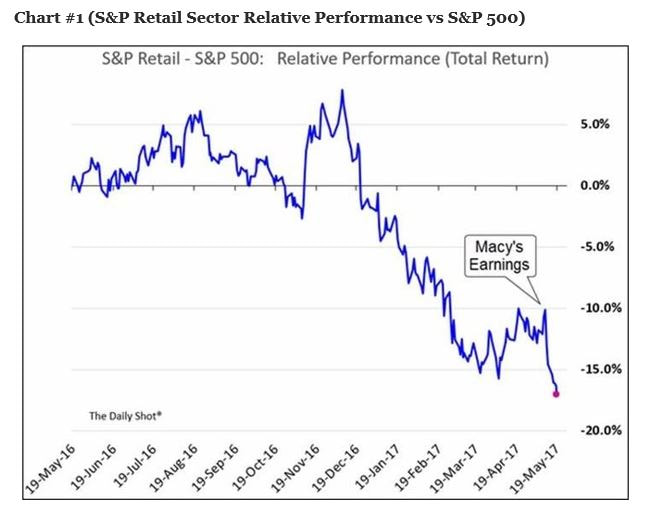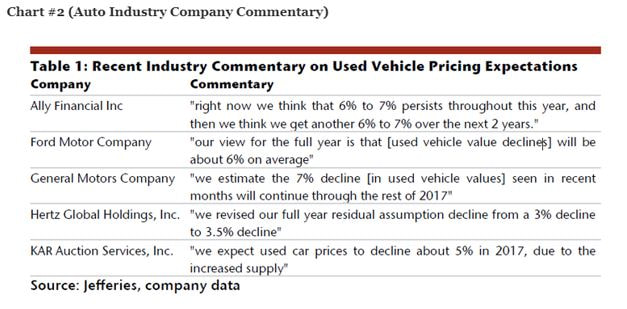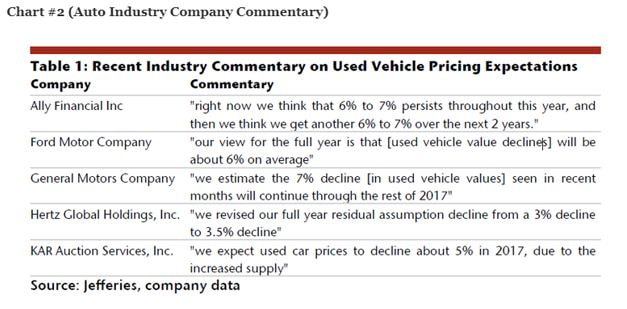 ---
Past performance is not a guide to future performance. Portfolio holdings and allocations may change at any time. Views and opinions discussed in the Portfolio Manager Highlights are those of the fund managers and could change after the date published. The information in this article does not qualify as an investment recommendation.  As of 5/23/2017 none of the securities referenced are currently held by the funds. Portfolio holdings and allocations may change at any time. Risks: Investments in debt securities typically decrease in value when interest rates rise. The risk is actually greater for longer term debt securities. Investment in lower-rated and nonrated securities presents a greater risk of loss of principle and interest than higher-rated securities. Investments exposed to credit risk where lower-rated securities have a higher risk of defaulting on obligations. Investments in foreign securities involve greater volatility and political, economic and currency risks. They may also have different accounting methods. Investments in asset-backed and mortgage-backed securities include additional risks that investors should be aware of such as credit risk, prepayment risk, possible illiquidity and default, as well as increased susceptibility to adverse economic developments. Investors should consider the investment objective, risks, charges and expenses of the Fund carefully before investing. The Prospectus contains this and other important information about the Fund. For a current Prospectus, call 800-269-8810 or go to Please read carefully before investing. The Funds are distributed by Foreside Distribution Services, LP.