2021 Newsletter – 6.16.21
We had exceptional performance in our fiscal year 2020 due to the dislocation that came from Covid-19. In addition, our exposure to oil and gas particularly in the form of shrinking supply in both oil and gas markets moved prices higher. The sell-off in technology also helped as convertibles "broke" meaning they began to generate positive yield to maturity with the convertible option still intact. Some names (equities) were off as much as 40 – 50%. We see this theme working for the remainder of 2021.
Performance*
Short Term High Yield (LCCIX)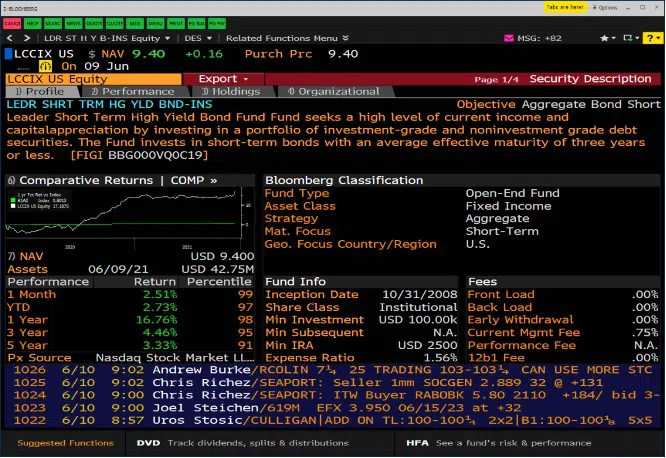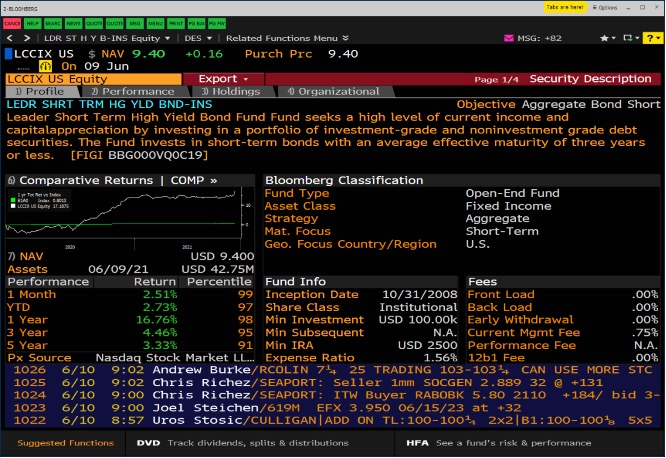 See the attached factsheet for expense and SEC standardized performance.
Total Return Fund (LCTIX)
See the attached
factsheet
for expense and SEC standardized performance.
*Past performance does not guarantee future results. The performance data quoted represents past performance and current returns may be lower or higher. Share prices and investment returns fluctuate and investor shares may be worth more or less than the original cost upon redemption. To obtain performance as of the most recent month-end, please call 1-800-269-8810. We believe the Fed will continue to keep rates low thru the 2022 election as the Fed and the Treasury continue to be less independent and more political. The 30 year Treasury could easily get to 1.5% by the first quarter of 2022 as we go towards "0" in a global arbitrage in interest rates for developed countries. Short rates will move higher thru 2022 (see commercial paper rate below). We see this inversion as a negative for markets. We think the inflation trade is short-lived and commodities will recede, in particular, lumber and building supplies, causing another semi "2008" housing decline. In addition, the heavy buying of single-family homes by institutions and individual investors will exacerbate the decline. Replacement costs are the primary drivers of home prices, not mortgage rates. Unemployment (U-6) will remain high as employers have learned to get by with fewer workers. When the covid benefits disappear, there will be a hangover.
US Commercial Paper Rate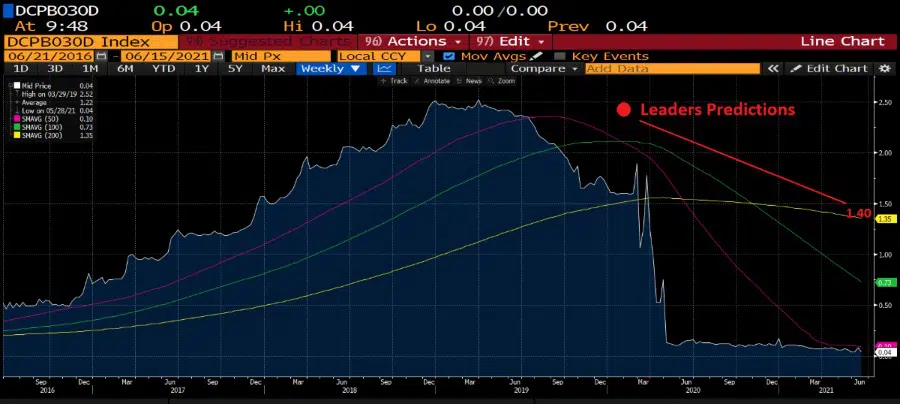 This commentary is intended to be general in nature, reflects our opinions, and is based on our best judgment at the time of writing. No warranties are given or implied regarding the future market activity. This commentary is not intended to be, nor should it be used as a substitute for individualized investment advice. No specific decisions should be made based on this commentary. These opinions should not be construed as a solicitation for any service. Past performance does not guarantee future results. Leader Capital Corp. serves as adviser to Leader Short Term High Yield Bond Fund, and Leader Total Return Fund, distributed by Ceros Financial Services, Inc., Member FINRA/SIPC. Leader Capital and Ceros are not affiliated. CMP-1332